We're hiring: Chairperson
Published: 6 October 2022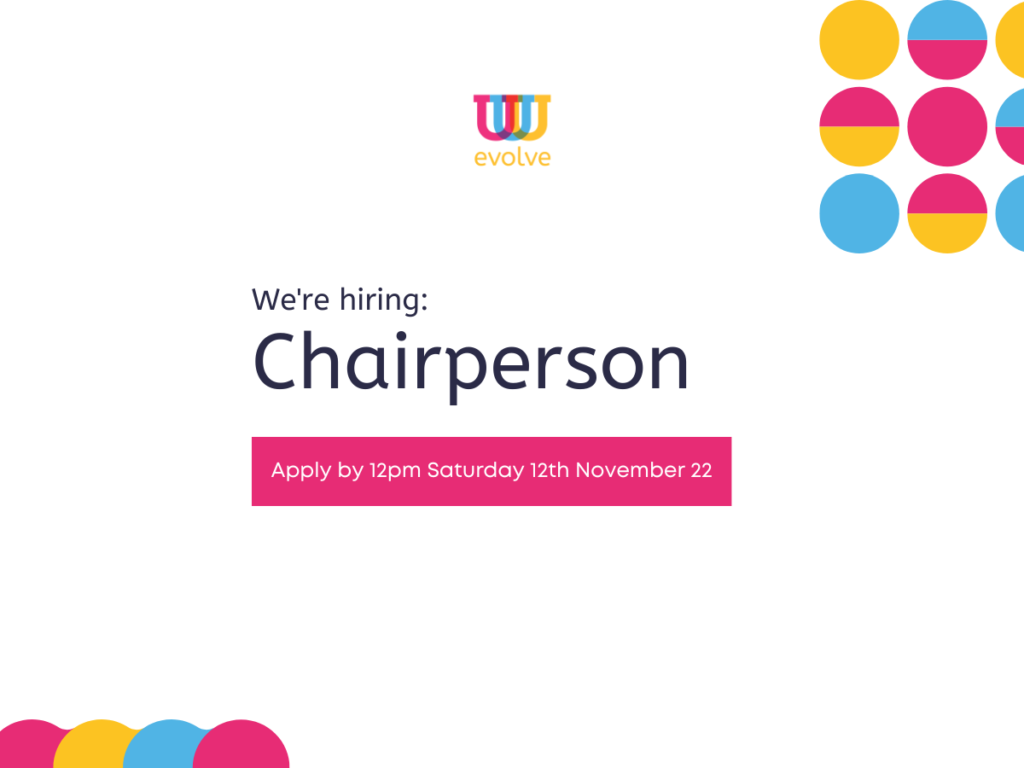 Are you a creative, strategic thinker looking for a new challenge? Are you committed to improving the lives of young people in Edinburgh? Then we want to hear from you!
About the role
We've had a significant period of growth over the last two years, and we're entering an exciting time for the charity as we develop our next three year strategy. After co-founding U-evolve back in 2015, our current Chair is now stepping down. We are looking for a dynamic, driven and compassionate leader to support the board and staff team into this new chapter.
We welcome applicants from a diverse range of backgrounds who will add different perspectives and skills to U-evolve. Previous Board experience would be greatly beneficial, but an interest and enthusiasm for improving mental health and wellbeing for young people is essential.
The time required for the chair role varies throughout the year, but as a minimum the chair will
Provide monthly 1:1 support to the CEO (approx. 1.5 hours a month)
CEO annual performance review and goal setting (approx. 5 hours a year)
Six board meetings a year, online or in North Edinburgh (approx. 3 hours each meeting including prep time)
Chair our AGM (approx. 2 hours)
Ad hoc office bearer meetings as required (approx. 2 hrs)
Annual Trustee 1:1s (30 mins per Board member)
Strategy development (approx. 20 hours throughout the year)
This role is voluntary, with no remuneration. However, reasonable travel expenses will be covered.
Trustee attributes;
Passionate about creating a society where young people have the right mental health and wellbeing support to thrive, no matter where they're starting from
Ready for your next leadership challenge
Great at working alongside people from a diverse range of backgrounds
Strategic vision and drive
Good, independent judgement
An ability to think creatively
Willingness to speak share your views
Ability to build consensus and shared vision
Responsibilities of a Trustee
• To ensure that the organisation complies with its constitution, relevant legislation, and any other relevant regulations
• To contribute actively to the board, giving strategic direction to the organisation, setting overall policy, defining goals, setting targets and evaluating performance against agreed targets
• To act as an ambassador for U-evolve
• To abide by the equal opportunities policy
• To ensure the financial stability of the organisation
• To support and monitor the performance of the CEO
• To attend and chair board meetings, preparing in advance of meetings
• To attend sub-committee meetings as appropriate
You can read more about the roles and responsibilities of a trustee on SCVO's website https://scvo.scot/support/running-your-organisation/governance/roles-responsibilities
How to apply
If you share our vision and values and want to contribute to our success, please get in touch by emailing hello@u-evolve.org to arrange an informal chat with our CEO or Chair by 12pm on Saturday 12th November 2022.
The following document provides more information about the role, our charity, and insights from our current Board members: https://u-evolve.org/wp-content/uploads/2022/10/U-evolve-Chair-Trustee-Recruitment-Oct-22.pdf
Summary