We're hiring! Kickstarter Youth Leadership Officer
Published: 15 February 2022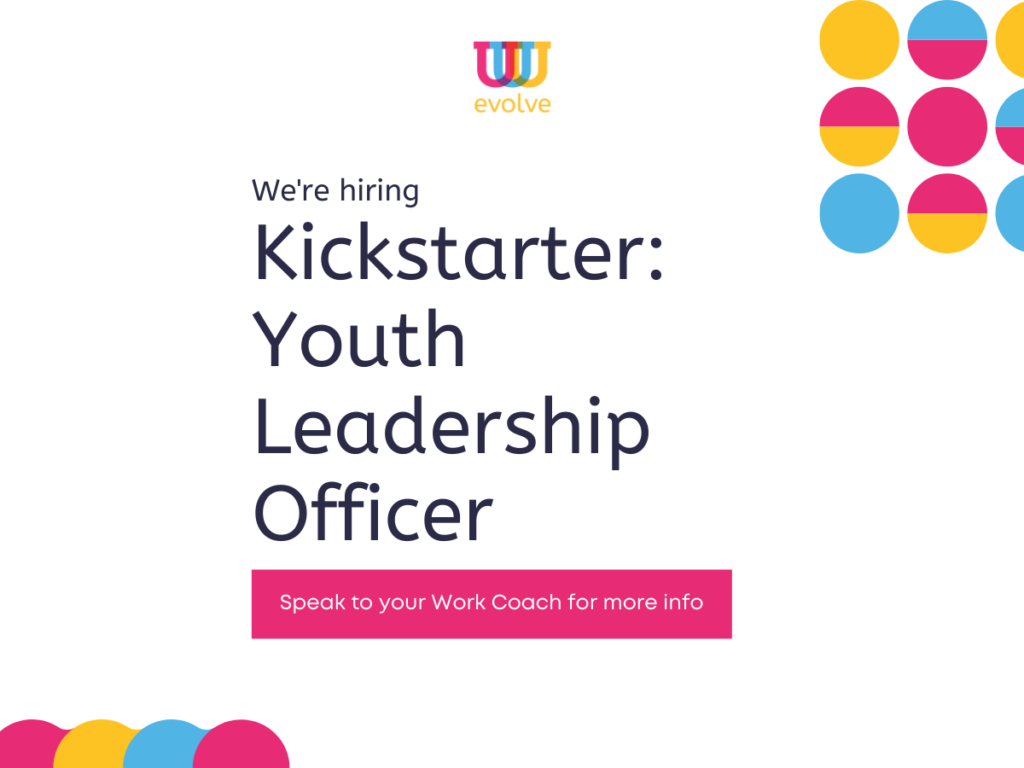 Are you aged between 16 and 24, currently on Universal Credit and interested in learning admin, communications, leadership, recruitment (and many more!) skills in an organisation that supports the local community? If this sounds like you then please speak to your work coach about U-evolve's Youth Leadership Officer position. No matter your skills or experience we will consider your application.
About the role
We are hiring a Youth Leadership Officer via the Kickstarter scheme as part of our creation of U-evolve's Youth Advisory Board (YAB). The succesful applicant will bring the YAB to life and will gain skills in recruitment, formation, and administration. From creating job adverts and social media posts, to representing U-evolve at recruitment events, and oragnising YAB meetings; this role allows you to gain varried experience whilst supporting youth mental health in Edinburgh! By supporting the volunteers for the YAB, comprised of young people from Edinburgh, you will helping to provide a youth voice for youth mental health. The YAB will have a role in our governance and direction and will generally lead and inform our activities – making sure our work for young people is decided by young people. The Youth Leadership Officer will help to facilitate and ensure the smooth and effective running of the YAB, with lots of support and training opportunities to ensure your success.
You will develop a number of key skills in a supportive, inclusive and compassionate environment. These will include;
Helping us to promote, advertise and recruit for the Youth Advisory Board:
From assisting in the creation of appropriate YAB role descriptions, to promoting the new roles at our partners venues (e.g. schools) through presentations, creating promotional materials such as social media posts, taking part in the interview process for YAB members, and playing a part in decision making for recruitment to the YAB, as well as informing applicants of outcomes and administering provision of feedback to them.
For example, you will work alongside our Communications Coordinator to learn about using Social Media as a business/organisation, create graphics, and write copy to promote YAB recruitment and outcomes.
Administration of the Youth Advisory Board:
Once the YAB has been formed, the successful applicant will lead on the administration of this group. This will include; finding and booking a venue/room for meetings, creating agendas for meetings, attending YAB meetings, recording minutes, recording and driving actions from meetings, arranging for snacks and refreshments, keeping YAB members up to date and in the loop through emails, texts etc regarding attendance at meetings, taking part and contributing to YAB discussions as a facilitator and someone for YAB members to look up to. You will be a main point of contact for YAB members but the rest of the U-evolve team and Board will be on hand to help with aything difficult or complex.
This is an exciting opportunity to develop desireable leadership skills and confidence, something that many people don't gain until much later in their careers!
Champion youth mental health:
Leading by example at YAB meetings as a young person championing other young people to help make our services better and direct our activities as envisaged and led by young people. The successful applicant will be an ambassador of our Youth Leadership Programme both internally with YAB members and externally with our partners.
Youth mental health is our passion! We are committed to supporting young people who need us throughout Edinburgh, to sharing knowledge, and to challenging stigma. If you care for causes and want to have a real impact, this role is ideal to help you start your career in the charity sector.
Feeding back progress and successes to the wider U-evolve Board:
Our Youth Leadership Sub-Group and wider Board of Trustee's will be interested to hear about progress with the formation of YAB, and the successful applicant will feed back our successes and progress to the Youth Leadership Sub-Group and Board of Trustee's. You will be able to report on the activites of the YAB, your findings, and gain fantastic experience of working alongside our supportive and passionate Board!
Any other activities in pursuit of our Youth Leadership Programme at U-evolve.
As this is a new project, there might be other tasks that come up as we go. We will be on hand to support you throughout and, if you see something that you think we should be doing then we will support you to make it happen!
We will strive to support and assist the successful applicant to undertake duties of interest to them to support their personal development.
Person Specification
No previous experience is necessary, we will help you get to where you need to be!
Summary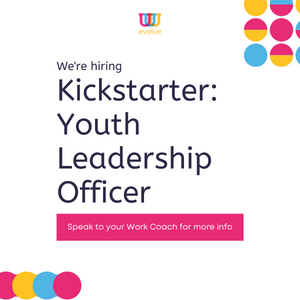 Article Name
We're hiring! Kickstarter Youth Leadership Officer